Bergo flooring is a world leader in manufacturing of multifunctional flooring.
They have won the prestigious award in the category of best floors on the world's biggest floor convention Domotex 2014 in Hannover.
Advantages: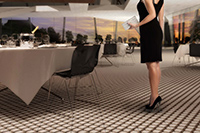 They are quick and easy to install and require no fasteners such as nails, screws, glues etc.
Easy to move
Long-lasting
Attractive appearance
Many colors and designs
Slip resistant
Heavy duty
No/minimal maintenance
Creates a dry surface
Technical features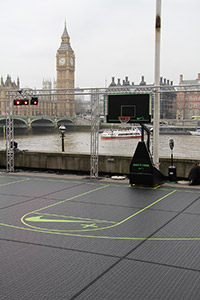 weather-resistant (withstands all climates and environments)
water flow under the tiles (drainage)
air flow (ventilates damp floors)
hot/cold reducer
sound absorbing
ergonomic
resistant to chemicals
Design
Wide range of colors and designs
Tile design per customers' requests
Application
Household: balconies, terraces, garages, halls, workrooms, bathrooms, entrances etc.
Reference: Bauhaus, OBI, Hornbach, Kesko, Coop, Byggmax etc.
Public places: Cafes, bars, restaurants, boutiques, pools, offices, industry etc.
Reference: BMW, Porsche, Autoropa Ferrari, Café Opera, Real Madrid Arena etc.
Events: fairs, advertising areas, concerts, dance floors, wedding areas etc.
Reference: Volkswagen, Ferrari, Porsche, Volvo, BMW, Hyundai, Pringles etc.
Sports:  tennis, football, basketball, volleyball courts, childrens playgrounds etc.
Reference: NIKE 3 x 3 World basketballs Festival, U.K., Swiss Inline Hockey League, Österbro Stadion, Home arena of FC-Copenhagen, Denmark, Helsinki Municipality, Finland etc.
Marines: boats, yachts, ports etc.
Reference: Norwegian Cruise Lines, Jadrolinija, Stena Line, Silja Line, Tallink, Scandlines, P&O, Star Cruises, Princess Cruises etc.